Becky
July 2019
Consulting
It has been another busy and varied few months on the consulting front
Somerset Academy 3 completed and Academy 4 is being redesigned jointly with Somerset NHS, Somerset County Council and SW Academic Health Science Network to focus more on supporting the projects, less on development days and delivery in line with the local Sustainability and Transformation Partnership plan for Somerset. With support at different levels in the system the aim is to work towards greater integration between health and social care. A case study of this Commissioning Academy intervention can be found in the latest Public Service Transformation Academy (PSTA) Case Studies and annual report: Public service: state of transformation Think pieces and case studies 2019 here pp 55-61.
I also worked with a number of directors and strategic managers from Somerset County and Somerset CCG facilitating 5 half day meetings focusing on what is needed to deliver more joint commissioning. 
Working with 40 leaders from Cambridgeshire County and Peterborough City Councils, who are working together on a number of policy and operational areas, has involved a combination of system leadership events co-delivered with RedQuadrant colleagues, and facilitating two action learning sets with up to 12 of the 40. Once again action learning as a method proved its value as a way of supporting and developing experienced leaders having to work with complexity and financial and political uncertainty.
During this period, I have led a Transformation Academy in the East of England for PSTA/RedQuadrant. 
As an associate with Meeting Facilitators I designed and delivered strategy a vision event for a regional division of Allianz insurance. Most recently I delivered a workshop with Urgent Health UK, a group of urgent care providers, on building resilience into their sector.
Somewhere between consulting and social theatre: Joanna Procter, Sola Adebiyi and myself, through Reveal Productions and RedQuadrant, delivered a session at the Public Service Transformation Academy PSTA Conference 2019 in June. This was an 'embodied systems' session using "Theatre of the Oppressed" methods to:
Provide the conference with something different, unexpected, that might change your thinking, that might inspire you to try something different yourselves in working with complex systems of relationships …
Demonstrate the voice of the user / the outsider – which is unlikely to be well represented at the conference
The session was only  40 minutes long, so was obviously just a taster. This approach could be incorporated into a deeper exploration of how local health and care systems work. It was very well received by the 30+ delegates from the conference who participated.
Social theatre took a step into the world of wildlife conservation in recent months. Joanna directed the latest Summer Charabanc, theatre on the back of a 1920s Millers Cart drawn by 2 Suffolk Shire horses, as it followed a route around Westhay Nature Reserve in Somerset. This was another Wassail production, funded by Arts Council England and Somerset Wildlife Trust. The site provided the backdrop for a story about the effects of climate change, and the habits of rare bird egg thieves. The 20+ performances goy great reviews, and audiences got quite involved at times in the action themselves!
November 2018
First on the consulting front (Stephen), this has been a busy period.
Somerset Commissioning Academy 2 has been completed and projects started on that programme have progressed over the 100 days since the final day. Somerset Academy 3 is underway, with 5 new projects starting up.
Also through RedQuadrant, I am working with Devon CC and also Cambridgeshire/Peterborough designing and delivering system leadership development events.
Standard Bank Investment Banking International (IBI) – I have been working with IBI devising and supporting five 90-day 'sprint' projects groups focusing on revenue growth and client-centricity. These were set up in a session I facilitated at an event for  senior managers across IBI and other parts of the bank. This work has been through Meeting Facilitators
Institute and Faculty of Actuaries – I designed and delivered two strategy day events for the Markets Development Board and then full Council, looking at the future of the profession and role of the IFoA. (also through Meeting Facilitators).
Stephen and Joanna – Social Theatre
I have also been supporting the Life's A Carnival project as producer. We secured funding reported in our previous update and it has been full steam ahead going into production. The play is called "Pattern Up". Joanna has been directing and performances will be in local community settings end of November until January.
May 18
Stephen is currently leading a second Commissioning Academy in Somerset and and an internal Commissioning Academy programme for Sefton Metropolitan Borough Council. He is delivering both of these programmes through RedQuadrant on behalf of the Public Service Transformation Academy.
He is also about to start facilitating a strategic project on joint commissioning involving a County Council and Clinical Commissioning Group.
Currently Stephen is facilitating 3 action learning sets as part of the Transform Ageing Programme in the SouthWest of England.
Stephen and Jim McLaughlin (Meeting Facilitators) ran 2 workshops for the Police Federation of England and Wales in February and March 18. The workshops had participants from all police ranks and their representative organisations and included a number of Chief Constables. The workshops explored in some depth recent research findings relating to impacts of changing capacity and demand on police officers' welfare. Stephen wrote up the workshops from the outputs and the final report published by the Police Federation based on his report can be found here.
In Autumn 2017, working through MAC-UK Stephen helped Glasgow City Council  develop  implementation actions Inclusion 'in mainstream' strategy for children with SEN/complex needs (Primary sector and LCRs 2016, 2017 with secondary sector) using a coproduction approach with stakeholders from schools and specialist units.
Stephen and Joanna – Social Theatre
As a director of  Reve(a)l Productions CIC  Stephen has been working on the engagement and development phase of Life's A Carnival (as producer), which Joanna Procter is devising and directing with two community activists Ken Hinds and June Tuitt in Tottenham based on their lives in Tottenham London. The play, written by Marika McKennell with Joanna, is based on their stories and commitment to end violence in their community. The initial phase of engaging local people, research and script development was completed November 17-March 18 and was funded by Arts Council England. The project is receiving additional funding from Arts Council Funding and Westhill Endowment to go into production and performances in the autumn.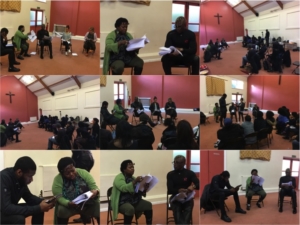 First read-through of Life's A Carnival initial script – Tottenham February 2018
November 2017
Stephen has just completed leading the first Somerset Commissioning Academy.The Somerset Academy brought together 40+ senior people from across local authority, health, DWP, Police and other sectors to develop a programme for improving commissioning of public services in the context of health and social care integration as part of the County's Sustainability and Transformation Plan (STP). He is about to start leading a Commissioning Academy for Sefton Borough, again through RedQuadrant and the Public Service Transformation Academy.
Stephen and Jim McLaughlin (Meeting Facilitators www.facilitator.co.uk) have been working with 3 Step IT  to develop growth propositions through a 2 day innovation workshop and follow-up support to the emergent projects. Stephen and Jim are also just about to start working with the Police Federation to design and facilitate workshops to take forward some recent research findings relating to impacts of changing capacity and demand on police officers.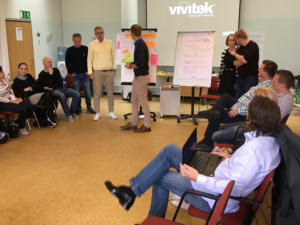 Innovation Workshop November 17
On the Reve(a)l Productions (the Community Interest Company set up by Stephen and Joanna Procter) front, we have been awarded a grant from Arts Council England to develop 'Life's a Carnival' based on the lives of two community activists in Tottenham London and their stories and commitment to end violence in their community.
July 2017
Welcome to the latest update after a busy few weeks.
Stephen is leading a cross sector programme through the Public Service Transformation Academy/RedQuadrant for Somerset. The Somerset Academy will bring together 40+ senior people from across local authority, health, DWP, Police and other sectors to develop a programme for reforming commissioning of public services in the context of health and social care integration as part of the County's Sustainability and Transformation Plan (STP) for health.
He facilitated a regional conference on school workforce development through an old client, now colleague, Jim McLaughlin and Meeting Facilitators. Also with Jim, we are developing and facilitating an innovation event for an IT Finance group, 3 Step IT, looking at new proposition development.
Stephen is also working again with  MAC-UK . This includes delivering support to Glasgow City Council on implementing its Schools Inclusion strategy in the secondary sector.  This follows similar work in the primary sector last year (see below).
Meanwhile, Stephen has just completed delivering a bespoke Commissioning Academy programme for the Skills Funding Agency to support the devolution of Adult Education Budget to the 6 new Combined Authorities, the Greater London Authority and Cornwall Council as part of the Government's regional 'Devolution Deals'. The Academy involved representatives of the Authorities and looked at how commissioning approaches can be applied to achieve better local outcomes through devolution.
Joanna and Stephen  formed Reve(a)l Productions CIC last year through which social and community theatre projects will be delivered.
November 2016
Have just completed the Cornwall Commissioning programme (see news September 16 below), guiding the cohort of cross sector commissioners and strategy officers through the 6 day programme has led to a formal role being developed for the Cornwall Commissioning Academy in developing commissioning strategy and reform across sectors. Now moving on, again through RedQuadrant, onto supporting a Commissioning Academy programme which aims to support the devolution of £700m of the Adult Education Budget to 9 'Combined Authorities" as part of the Government's Devolution Deals programme to local and health authorities.
Stephen is also working through The Integrate Movement and MAC-UK, to support Glasgow Education Department implementation of a Schools Inclusion strategy for pupils with Additional Support Needs.
September 2016
Through RedQuadrant Stephen has been working as Cohort Facilitator for Cornwall CC/Kernow CCG County-wide Commissioning Academy 2016. Working with a group of commissioners and strategic planners from across the Council and NHS system. Also in Cornwall, he led a 'Marketplace Hack day' to explore new models of care to improve discharge from hospital, reducing demand for nursing home and prolonged community hospital stays, enabling earlier care at home, reducing re-admissions and stays in acute settings for older people and people with complex conditions.
On Feb 24th 2016 Stephen became a Director of Lomakatsi. The company provides 'Creative Rehabilitation' – The Art of Healing -to support people with mental health conditions and learning disabilities to take steps towards recovery in the former, and communication in the latter as they leave institutions and move back to living in the community. "Working on the provider side of the health and social care system is widening my perspective, and giving me increased insights into commissioning services that can improve outcomes and reduce costs over time". Stephen is working on developing Lomakatsi as a business and supporting delivery of its contracts with Hertfordshire CC, piloting innovative interventions in acute hospital and community settings for people with Learning Disabilities through the Transforming Care Partnership Fast Track Programme.
Themes for work in 2016
Creativity, engagement and empowering people to shape their services are critical to rehabilitation; and helping commissioners and providers to work in more integrated ways to support people of all ages who experience multiple points of need. The challenges will be in developing effective systemic service models, as well as looking at how organisation design and operating models can be informed by what we know about working with trauma and extreme disadvantage, with therapeutically principled ways of working within and across organisations.
2016
Stephen's work continues to move towards a focus on system and organisational change in mental health, social care and services addressing areas of disadvantage and exclusion. One feature is helping to develop organisations which are taking social and clinical innovation forward in ways that impact at individual, team, organisation and system levels of relationships.
Becky
April 2017
Joanna continues to develop and grow applied theatre as a practice. More on this can found at www.revealproductions.co.uk. Joanna and Stephen have worked more together in 2015 and 2016 and see more opportunities to develop creative and organisational capabilities combining through creative approaches to rehabilitation and linking community based performance to social action, organisational and personal development.
September 2016
Joanna: "I have just set up Reve(a)l Productions CIC. My aim is to support the growth and development of people who are marginalized/disadvantaged using Applied Theatre and putting on devised 'Shows with Meaning' in local community settings. We will work flexibly on a range of projects and funding. Audiences may be small and connected to the performers or in a wider setting – the performances bring a message to the audience that is critical to the development of the performers in changing their lives or the lives of others
I am focusing on developing two projects currently. I am looking at using an applied theatre approach to build resilience amongst orphans of the Ebola crisis in Sierra Leone, building on my previous projects with war-affected youth and children in 2012. (see www.joanna procter.co.uk home page for videos). The second project involves developing a show with a community activist from Tottenham – an African Caribbean man in his 50s, based on his life and experiences – a mediator between police, community and gangs, and with a powerful story to tell. The aim is to develop the show in a way that shows that there is an alternative to cycles of racism, exclusion and violence. This is a good example of how our skill sets will merge together over time.
By securing funding more effectively, I will be able to employ local creative people to work with me to devise work that is relevant, sustainable and has an impact in the local communities we are working in."
Joanna was recently funded to develop an innovative approach to local storytelling in Somerset, working with Wassail Productions. Working with 4 actors and a writer, a show was devised and performed in September 2016 taking a 'mythology' of the Somerset Levels as the basis for the show. The show was performed on a large Millers Cart, drawn by two Suffolk horses, which wound its way around Langport and Muchelney, as the audience were invited to witness an 'illicit' wedding and the resolution of of a dramatic and fateful event 100 years ago connected to the flooding of the Levels!
In May, Joanna spent a few days in Greece and ran a workshop for young refugees from Syria at one of the refugee camps in Athens.
Joanna just completed her work with Help for Heroes after nearly 3 years (see below)
2015
Joanna delivered monthly drama rehab workshops through the year at Tedworth House (Help for Heroes rehabilitation centre) working with small groups of service men and women coping with physical and psychological trauma. Applying drama methods, this work aims to break down barriers to re-engaging in social situations following serious injuries. This is being delivered at Tedworth House Centre run by Help For Heroes.
She started work directing a play, working with non actors for whom the process of working together and performing will be significant to their own personal journeys of overcoming exclusion.
Stephen and Joanna worked together to provide workshops to support a staff and management engagement process Stephen was developing for Kids Company. Unfortunately, the closing of this charity at such short notice meant that the work was not completed. All in all, this was a distressing situation for the kids and young people and their parents as well as for staff. A complex set of forces were at work and our work was all about building a stronger 'container' for the organisation, which was spread across some 15 sites as well as outreach in 36 schools.
Stephen supported Joanna to deliver a drama workshop for 25 Young Carers in Somerset.
2012-2014
Joanna  completed a 2.5 day workshop with 20 14-year olds at a multicultural school in North-west London. They explored the theme of 'gangs and choice' through drama and movement, and after 2 days devising and rehearsing a 20 minute performance, the young people performed the show twice the next day to some 300-400 children with their teachers. This was considered a great success, with participants overcoming their own 'tribal' groupings and conflicts to come together to perform as one. Increased self confidence was important feedback from the experience from participants and the power of theatre to overcome differences to celebrate diversity and talent was demonstrated. This workshop was also foundation research for a bigger project on the issue that Joanna is formulating.
She supported a number of young people preparing for a performance at a major fund-raising event for Key 4 Life.
Joanna ran a whole day workshop at a primary school – working with 30+ 8-9-year old children, she created with them a performance about power of learning, which was very well-received by parents, other children and teachers, when they performed at the end of the day.
Joanna worked intensively for a week with a year group (10-11) at a school for children with special needs including autism. The school is a London multi-cultural inner city school.  This work centred around National Book Day and culminated in a performance by the year group to children at the school  and parents. The evaluation showed that the process had a positive impact on the children as well as the teaching staff and the performance was very well received by parents as their children performed well together and  above expectations.
In the summer and autumn 2012, Joanna worked with 4 Special Needs Schools in North-west London on a project to promote crime prevention awareness amongst children (7-16 years). Using drama, she ran 21 sessions to explore different aspects of crime involving strangers, cyber crime and self-awareness in diverse situations.
Joanna completed a project working with teenage young women to put on a show as part of youth work supported by a London Borough's Crime Prevention Committee; this culminated in a brilliant performance by the young women involved at the town hall – with family and friends in attendance – see this here. The young women aged between 14 and 16 years old, found this experience of developing, rehearsing and performing ' a great experience', 'an amazing experience', ' it is going to help me make big decisions'.
She directed 'The Notebook' at the Imperial War Museum performed on Armed Forces day 2011. visit Vimeo The Notebook.
Joanna continues to offer ongoing one-to-one energy work with private clients.
Becky
Joanna and Stephen worked together to deliver a staff development process and day for Kids Company in Bristol, based on the idea of creating a 'positive organisation' that supports intensive educational and therapeutic services for children and young people. "The structure of the day was perfect, the right balance of input and activity, consequently the day was well paced, informing and inspiring. Our aim was to create a cohesive staff group, who would move onwards and upwards as one community, despite being spread out over five sites. Following the day the community spirit is certainly there and the energy among the staff is positive and forward looking. I can certainly recommend Stephen and Joanna to organise and facilitate training days." Esther Keller, Director for Services for KidsCompany in Bristol.
We were able to bring together organisation development methods such as appreciative inquiry and 'world cafe' with creative tools in group work, visualisation and singing. The idea of a the group of 85 staff learning and singing a song in 5 part harmony encompasses listening, the parts being learned and then coming together and the power of connecting at a deep level –  was ideal preparation for moving into collaborative activities later in the day. The singing session was delivered by Anthony Johnston www.realvoice.co.uk
Becky
During 2012-13 Stephen worked with  Ofgem E-Serve to deliver 15  workshops on matrix working; he teamed up with his longstanding colleague Jeff Austin at JVM Consultants to do this. See Jeff here.
Stephen worked with the wonderful Dr Bill Prensky Meet Bill here and see CNDG here and Brad Wilkinson, both in the USA. Our client has been Pfizer Animal Health – now Zoetis –  and he has been working with Bill and Brad to design two strategy implementation and community events. Working with some highly experienced vetinarians has been really interesting. We went through visioning sessions and world cafe and deep dive methods to enable the client teams to to develop plans they own.  Stephen largely worked virtually with Bill and Brad, as well as co-facilitating one of the events in Portland Oregon. Great people to work with and he enjoyed working together virtually. This is a good example of Stephen bringing his creativity and workshop design skills into play as a virtual team member. He also designed and authored an interactive iBook, developed with the CNDG technical team for the client as both a record of the second event and as basis for ongoing updates on the story of change as the organisation moves forward on its change journey.
He facilitated two 'leading for rapid growth' workshops in South Africa  for Kentz plc and worked with Zimmer Inc, a global medical devices manufacturer designing and facilitating  workshops to help UK and European Finance leaders transition to a new operating model.
Becky
Welcome to Greener Moss. Our site is evolving and your comments and interest are appreciated. Please see our other pages for information about us and what we do.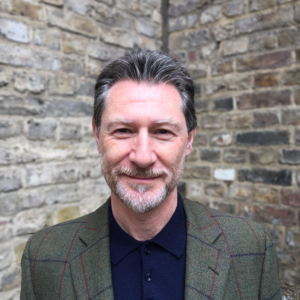 Stephen Moss
also see Joanna at work at Reve(a)l Productions CIC
Becky
Stephen has been working in the field of  'complex case management' in social care, managing cases through HfH Healthcare; "this work is very much going back to my roots in social care and is also giving me increased insights into the way services are put together where there are multiple and complex needs involved."