January 2022
For Public Service Transformation Academy/RedQuadrant:
PSTA lead for Leading Greater Essex programme for the Essex Partnership Board; Leading PSTA commissioning development and support project across 10 taskforces in 10 areas as part of the DFE SAFE Taskforces programme tackling serious violence and disengagement in schools. Leading a Commissioning Academy focusing on commissioners from Officers of Policing & Crime Commissioners through the Association of Policing and Crime Chief Executives (APACE).
Work continues with Somerset CC CoLabs and I am supporting the next cohort for LB Newham's Reciprocol Mentoring scheme as we hand over to an internal team for future delivery.
As producer for Care As You Are  a film about a family carer on a journey caring for her mother with dementia, I have been working Disrupt Education and Learning to create a premium eLearning package based on the film as the driver for learning and look forward to its launch in this first quarter of 2022.
November 2021
Consultancy: This has been a busy year. Main work I have delivered in the last year includes:
Consortium of charities: supporting 6 charities to bid jointly for a 5-7year contract to deliver integrated Information and Advice Services in a London Borough.
NHS Trust: working with colleagues on a culture development intervention in support of an Emergency Department
Mopac (Mayor's Office for Policing and Crime, London): Led a bespoke commissioning development programme for the commissioning teams across Mopac through five learning cycles consisting of video based webinars and Q&A, immersive half day workshops and group coaching. April-September 21
Leading Greater Essex: Working through Public Service Transformation Academy and partnering with Collaborate we have been delivering this cross sector leadership programme (for the Essex Partnership) through the autumn and into this summer, incorporating webinars, masterclasses and System Challenge group coaching. The programme has been delivered online. October 20 – Sept 21 
We are launching our second year of Leading Greater Essex in January 2022; I am leading the PSTA elements, particularly the applied learning aspects of the programme around system challenges and action learning.
LB Newham: I have been working with Royston John and Munira Thobani, through RedQuadrant to lead design and co-deliver a Reciprocal Mentoring Scheme for the borough council in support of its Tackling Racism Inequality and Disproportionality programme. March-September 2021
Somerset CC: I have continued to work with Somerset Senior Leadership Team (with RedQuadrant – Sarah Johnston) – with a few months break at lockdown, we recommenced in the autumn as the team engages with Local Government Reform and the formation of an Integrated Care System, whilst managing the COVID vaccination and recovery programme. I have also been working with RedQuadrant to deliver a Commissioning 'CoLab' programme entirely online. Ongoing
Essex CC Commissioning  Team: I have led a series of workshops – an all staff awayday session on line, a session with Children's and mental health team on 'trauma-informed' commissioning and strategy workshops with the leadership team preparing for Integrated Care Systems (three covering Essex) Nov 20 – March 21
2020
British Council: With Jim McLaughlin, we ran a series of connected online workshops with a cross section of senior managers to support the development of a digital learning strategy based on customer experience and a single journey. May June 2020
Care As You Are (see trailer): as producer for this film about a family carer on a journey caring for her mother with dementia, I have been working Disrupt Education and Learning to create a premium eLearning package based on the film as the driver for learning. This highly interactive learning programme is SCORM compliant and almost ready for going to market with local authorities, health and care providers across all sectors. We have worked with Somerset CC Social Care Learning Team to develop the programme. Also a DVD and booklet for families is going on release June 21 through amazon and other retailers through Screenbound a major film dvd distributor.
Joanna Procter and Reveal Productions: The Care As You Are film was of course made by Reveal, directed by Joanna. Updates on the Reveal Productions website can be found here.
May 2020
I have just completed a piece of work for Blackpool Opportunity Area through RedQuadrant, working in one of the most deprived wards in England. We managed to shift a planned one day workshop into two shorter 'online in person' workshops developing a vision and defining collaborative projects to move the area towards a more preventative approach to children's development and improving outcomes. 
I have also been demonstrating to 2 groups of consultants, how to facilitate online in person 'virtual' action learning sets by running 4 of these sessions with each group. 
I am now offering specific 'ONLINE IN PERSON' consulting interventions:
Summary of specific offers client ready:
Interventions 'On line In Person' (aka 'remote' delivery using zoom or your own platform). All of these are designed to improve well-being and team work of staff and organisation partners
Individual
Role consultation: a robust development model focusing on: understanding 'self' and one's authority in role; how role requirements are changing (systems thinking approach); how to adapt and align self-awareness with changing role requirements
Group interventions that combine support, learning and action
(Virtual) 'Action Learning Online In Person'
Collaborative project working
Weekly Group focusing on learning: what went well/What we could have done better/Insights and 'Aha's/actions we will take as a result of the learning (strengths based learning)
Organisation Development
Appreciative Inquiry into creating a positive organisation at a time of uncertainty and change
Transition workshops exploring transitionining into new ways of working (Bridges' Model)
Accountabilities – Decision Rights review (RACI review around decision points in key areas of risk)
April 2020
What a few months this has been! 
I have been taking a lead on a Senior Leadership Team Development with Somerset CC (through RedQuadrant). We have gone through a design phase and we have had a first development day with that team on which I worked with Meg Peppin. The covid emergency has of course put this on hold. 
Also on hold is work I started with the British Council with Jim McLaughlin at Meeting Facilitators; strategy work on technology and customer journeys. 
Just prior to the lock down, I completed a small strategy session with the leadership team of Spark Inside – a charity providing coaching and development to young men in prisons. This was through Meeting Facilitators.
In February, I completed leading the East Midlands Transformation Academy – a 5 day development programme with some 30 people from 6 local authorities in the region. What we introduced to this programme was group consultancy calls I facilitated between the main development days which focused on the 100 day challenge projects they were working on as part of the programme. 
I have had a peer-reviewed paper published in January:
'Exploring the challenges of system leadership in the voluntary and community sector' Stephen Moss 2020 
For
Reveal Productions
I produced a new run of nine performances of Pattern Up promoting Haringey Communities Agains Violence. See
here
The run included performing Pattern Up at two schools. At Ark Academy, Joanna and I led a two hour workshop after the play, with 50 students, exploring the themes of the play; re-enacting two key scenes to stimulate the discussion in small groups of 10 young people each led by one of the actors.
November 2019
Consulting
It has been another busy and varied few months on the consulting front.
I just supported and facilitated an event for 70 people through the Human Rights Foundation's Oslo Freedom Forum. This was an amazing experience and privilege to work with pro-democracy activists. This was through Meeting Facilitators.
Between July and October, I led a review of support services to children's homes run by Nottinghamshire CC (through RedQuadrant). I am also leading a new Public Service Transformation Academy programme for a number of local authorities in the East Midlands.
I have been leading the design phase of a leadership development programme with the Senior Leadership Team of a County Council. This will go into delivery early next year (through RedQuadrant)
July 2019
Somerset Academy 3 completed and Academy 4 is being redesigned jointly with Somerset NHS, Somerset County Council and SW Academic Health Science Network to focus more on supporting the projects, less on development days and delivery in line with the local Sustainability and Transformation Partnership plan for Somerset. With support at different levels in the system the aim is to work towards greater integration between health and social care. A case study of this Commissioning Academy intervention can be found in the latest Public Service Transformation Academy (PSTA) Case Studies and annual report: Public service: state of transformation Think pieces and case studies 2019 here pp 55-61.
I also worked with a number of directors and strategic managers from Somerset County and Somerset CCG facilitating 5 half day meetings focusing on what is needed to deliver more joint commissioning. 
Working with 40 leaders from Cambridgeshire County and Peterborough City Councils, who are working together on a number of policy and operational areas, has involved a combination of system leadership events co-delivered with RedQuadrant colleagues, and facilitating two action learning sets with up to 12 of the 40. Once again action learning as a method proved its value as a way of supporting and developing experienced leaders having to work with complexity and financial and political uncertainty.
During this period, I have led a Transformation Academy in the East of England for PSTA/RedQuadrant. 
As an associate with Meeting Facilitators I designed and delivered strategy a vision event for a regional division of Allianz insurance. Most recently I delivered a workshop with Urgent Health UK, a group of urgent care providers, on building resilience into their sector.
Somewhere between consulting and social theatre: Joanna Procter, Sola Adebiyi and myself, through Reveal Productions and RedQuadrant, delivered a session at the Public Service Transformation Academy PSTA Conference 2019 in June. This was an 'embodied systems' session using "Theatre of the Oppressed" methods to:
Provide the conference with something different, unexpected, that might change your thinking, that might inspire you to try something different yourselves in working with complex systems of relationships …
Demonstrate the voice of the user / the outsider – which is unlikely to be well represented at the conference
The session was only  40 minutes long, so was obviously just a taster. This approach could be incorporated into a deeper exploration of how local health and care systems work. It was very well received by the 30+ delegates from the conference who participated.
Social theatre took a step into the world of wildlife conservation in recent months. Joanna directed the latest Summer Charabanc, theatre on the back of a 1920s Millers Cart drawn by 2 Suffolk Shire horses, as it followed a route around Westhay Nature Reserve in Somerset. This was another Wassail production, funded by Arts Council England and Somerset Wildlife Trust. The site provided the backdrop for a story about the effects of climate change, and the habits of rare bird egg thieves. The 20+ performances goy great reviews, and audiences got quite involved at times in the action themselves!
November 2018
First on the consulting front (Stephen), this has been a busy period.
Somerset Commissioning Academy 2 has been completed and projects started on that programme have progressed over the 100 days since the final day. Somerset Academy 3 is underway, with 5 new projects starting up.
Also through RedQuadrant, I am working with Devon CC and also Cambridgeshire/Peterborough designing and delivering system leadership development events.
Standard Bank Investment Banking International (IBI) – I have been working with IBI devising and supporting five 90-day 'sprint' projects groups focusing on revenue growth and client-centricity. These were set up in a session I facilitated at an event for  senior managers across IBI and other parts of the bank. This work has been through Meeting Facilitators
Institute and Faculty of Actuaries – I designed and delivered two strategy day events for the Markets Development Board and then full Council, looking at the future of the profession and role of the IFoA. (also through Meeting Facilitators).
Stephen and Joanna – Social Theatre
More information can be found at https://www.revealproductions.co.uk/current-projects/ 
I have also been supporting the Life's A Carnival now called Pattern UP project as producer. We secured funding reported in our previous update and it has been full steam ahead going into production. The play is called "Pattern Up". Joanna directed performances  in local community settings end of 2018 early 2019.
May 18
Stephen is currently leading a second Commissioning Academy in Somerset and and an internal Commissioning Academy programme for Sefton Metropolitan Borough Council. He is delivering both of these programmes through RedQuadrant on behalf of the Public Service Transformation Academy.
He is also about to start facilitating a strategic project on joint commissioning involving a County Council and Clinical Commissioning Group.
Currently Stephen is facilitating 3 action learning sets as part of the Transform Ageing Programme in the SouthWest of England.
Stephen and Jim McLaughlin (Meeting Facilitators) ran 2 workshops for the Police Federation of England and Wales in February and March 18. The workshops had participants from all police ranks and their representative organisations and included a number of Chief Constables. The workshops explored in some depth recent research findings relating to impacts of changing capacity and demand on police officers' welfare. Stephen wrote up the workshops from the outputs and the final report published by the Police Federation based on his report can be found here.
In Autumn 2017, working through MAC-UK Stephen helped Glasgow City Council  develop  implementation actions Inclusion 'in mainstream' strategy for children with SEN/complex needs (Primary sector and LCRs 2016, 2017 with secondary sector) using a coproduction approach with stakeholders from schools and specialist units.
Stephen and Joanna – Social Theatre
Life's A Carnival became "Pattern Up" and was performed 9 times at the end of 2018 and early 2019. Reveal Productions has jsu secured grants for a second run early in 2020 to promote a north London grassroots community group working with young people caught up in violence on the streets Haringey Communities Against Violence.
As a director of  Reve(a)l Productions CIC Stephen worked on the engagement and development phase of Life's A Carnival (as producer), which Joanna Procter is devising and directing with two community activists Ken Hinds and June Tuitt in Tottenham based on their lives in Tottenham London. The play, written by Marika McKennell with Joanna, is based on their stories and commitment to end violence in their community.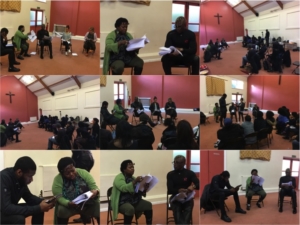 First read-through of Life's A Carnival initial script – Tottenham February 2018
November 2017
Stephen has just completed leading the first Somerset Commissioning Academy.The Somerset Academy brought together 40+ senior people from across local authority, health, DWP, Police and other sectors to develop a programme for improving commissioning of public services in the context of health and social care integration as part of the County's Sustainability and Transformation Plan (STP). He is about to start leading a Commissioning Academy for Sefton Borough, again through RedQuadrant and the Public Service Transformation Academy.
Stephen and Jim McLaughlin (Meeting Facilitators www.facilitator.co.uk) have been working with 3 Step IT  to develop growth propositions through a 2 day innovation workshop and follow-up support to the emergent projects. Stephen and Jim are also just about to start working with the Police Federation to design and facilitate workshops to take forward some recent research findings relating to impacts of changing capacity and demand on police officers.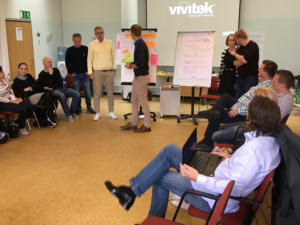 Innovation Workshop November 17
On the Reve(a)l Productions (the Community Interest Company set up by Stephen and Joanna Procter) front, we have been awarded a grant from Arts Council England to develop 'Life's a Carnival' based on the lives of two community activists in Tottenham London and their stories and commitment to end violence in their community.
July 2017
Welcome to the latest update after a busy few weeks.
Stephen is leading a cross sector programme through the Public Service Transformation Academy/RedQuadrant for Somerset. The Somerset Academy will bring together 40+ senior people from across local authority, health, DWP, Police and other sectors to develop a programme for reforming commissioning of public services in the context of health and social care integration as part of the County's Sustainability and Transformation Plan (STP) for health.
He facilitated a regional conference on school workforce development through an old client, now colleague, Jim McLaughlin and Meeting Facilitators. Also with Jim, we are developing and facilitating an innovation event for an IT Finance group, 3 Step IT, looking at new proposition development.
Stephen is also working again with  MAC-UK . This includes delivering support to Glasgow City Council on implementing its Schools Inclusion strategy in the secondary sector.  This follows similar work in the primary sector last year (see below).
Meanwhile, Stephen has just completed delivering a bespoke Commissioning Academy programme for the Skills Funding Agency to support the devolution of Adult Education Budget to the 6 new Combined Authorities, the Greater London Authority and Cornwall Council as part of the Government's regional 'Devolution Deals'. The Academy involved representatives of the Authorities and looked at how commissioning approaches can be applied to achieve better local outcomes through devolution.
Joanna and Stephen  formed Reve(a)l Productions CIC last year through which social and community theatre projects will be delivered.
November 2016
Have just completed the Cornwall Commissioning programme (see news September 16 below), guiding the cohort of cross sector commissioners and strategy officers through the 6 day programme has led to a formal role being developed for the Cornwall Commissioning Academy in developing commissioning strategy and reform across sectors. Now moving on, again through RedQuadrant, onto supporting a Commissioning Academy programme which aims to support the devolution of £700m of the Adult Education Budget to 9 'Combined Authorities" as part of the Government's Devolution Deals programme to local and health authorities.
Stephen is also working through The Integrate Movement and MAC-UK, to support Glasgow Education Department implementation of a Schools Inclusion strategy for pupils with Additional Support Needs.
September 2016
Through RedQuadrant Stephen has been working as Cohort Facilitator for Cornwall CC/Kernow CCG County-wide Commissioning Academy 2016. Working with a group of commissioners and strategic planners from across the Council and NHS system. Also in Cornwall, he led a 'Marketplace Hack day' to explore new models of care to improve discharge from hospital, reducing demand for nursing home and prolonged community hospital stays, enabling earlier care at home, reducing re-admissions and stays in acute settings for older people and people with complex conditions.
On Feb 24th 2016 Stephen became a Director of Lomakatsi. The company provides 'Creative Rehabilitation' – The Art of Healing -to support people with mental health conditions and learning disabilities to take steps towards recovery in the former, and communication in the latter as they leave institutions and move back to living in the community. "Working on the provider side of the health and social care system is widening my perspective, and giving me increased insights into commissioning services that can improve outcomes and reduce costs over time". Stephen is working on developing Lomakatsi as a business and supporting delivery of its contracts with Hertfordshire CC, piloting innovative interventions in acute hospital and community settings for people with Learning Disabilities through the Transforming Care Partnership Fast Track Programme.
Themes for work in 2016
Creativity, engagement and empowering people to shape their services are critical to rehabilitation; and helping commissioners and providers to work in more integrated ways to support people of all ages who experience multiple points of need. The challenges will be in developing effective systemic service models, as well as looking at how organisation design and operating models can be informed by what we know about working with trauma and extreme disadvantage, with therapeutically principled ways of working within and across organisations.
2016
Stephen's work continues to move towards a focus on system and organisational change in mental health, social care and services addressing areas of disadvantage and exclusion. One feature is helping to develop organisations which are taking social and clinical innovation forward in ways that impact at individual, team, organisation and system levels of relationships.
Building on work with LankellyChase Foundation, Stephen is starting a project in the near future (as Action Learning Associates) – an action inquiry based process within LankellyChase's programme in response to its own report: Ethnic Inequalities in Mental Health:Promoting Lasting Positive Change
Stephen has been working as Strategy and Engagement Consultant with The Integrate Movement (TIM) since January until the summer, developing the business model and developing its relationship with MIND. TIM offers development to services supporting excluded young people to develop better mental health, based on the INTEGRATE approach developed by MAC-UK. "We worked together on evolving the strategy and the way in which The Integrate Movement can offer programmes that adopt INTEGRATE principles. It has been a great collaboration working with the The Integrate Movement and MAC-UK teams to develop the INTEGRATE offer and approach. The staff are very passionate about what they do and really apply the principles to themselves". He is now (Sept 2016) working for The Integrate Movement with a clinical colleague from MAC-UK on a project to support a local authority to implement a vision of inclusion for pupils with additional support needs.
For Future Work Institute, he co-delivered a workshop in January for senior managers of a pharmaceutical company on tackling unconscious bias and the benefits of inclusion.
Joanna was funded to develop an innovative approach to local storytelling in Somerset, working with Wassail Productions. Working with 4 actors and a writer, a show was devised and performed in September 2016 taking a 'mythology' of the Somerset Levels as the basis for the show. The show was performed on a large Millers Cart, drawn by two Suffolk horses, which wound its way around Langport and Muchelney, as the audience were invited to witness an 'illicit' wedding and the resolution of of a dramatic and fateful event 100 years ago connected to the flooding of the Levels!
Joanna, with Stephen, is working on a 'one-man show' based on the life of a man from the heart of Tottenham, London – a mediator between police, community and gangs, and with a powerful story to tell. The aim is to develop the show in a way that shows that there is an alternative to cycles of racism, exclusion and violence. This is a good example of how our skill sets will merge together over time.
Her work developing and directing the production of 'With Full Conviction' working with non actors for whom the process of working together and performing will be significant to their own personal journeys of overcoming exclusion, was performed over 3 nights in February to acclaim and appreciation for the ensemble. The play itself drew in the audience to think about and explore the ideas of community and inclusion as a response to the play.
2015
Stephen and Mandy Hetherton worked together to deliver a coaching and development programme for 6 managers of Adult Social Care services at LB Waltham Forest. Evaluation demonstrated individual development as well as a marked enhancement in team work amongst managers. This has particularly impacted on the implementation of the new organisation around the 'customer journey'across Adult Social Care Services.
Stephen completed a programme over 9 months facilitating two action learning sets of leaders of social action projects funded by Lankelly Chase Foundation (though Action Learning Associates). See Case Studycase study. He has been working with LankellyChase to further develop system change leadership through the projects it is funding.
Stephen delivered 4 1-day workshops as part of RedQuadrant's Applied Service ReDesign programme of work with Bristol City Council. The cohort was a group of Social Care service managers/commissioner. We covered themes of navigating change, benefits mapping, managing demand and behaviours.
Stephen led a review (2014-15) of day services for older people provided by a Tandridge Council and working with them to develop a sustainable service model for delivery through its day centre. He worked with Council officers to enable potential service development and partnership at the day centre to create a sustainable resource for older people with complex needs. Services will be extended in partnership with an innovative care provider to people with more complex needs and opening hours will be extended. The Council itself will save money, whilst increasing the range of services and developing the centre as a community resource for older people with complex needs including dementia, people with learning disabilities, and as a hub for carers support and development.
Joanna continued to deliver monthly drama rehab workshops through the year at Tedworth House (Help for Heroes rehabilitation centre) working with small groups of service men and women coping with physical and psychological trauma. She also started work directing a play, working with non actors for whom the process of working together and performing will be significant to their own personal journeys of overcoming exclusion.
Stephen and Joanna worked together to provide workshops to support a staff and management engagement process Stephen was developing for Kids Company. Unfortunately, the closing of this charity at such short notice meant that the work was not completed. All in all, this was a distressing situation for the kids and young people and their parents as well as for staff. A complex set of forces were at work and our work was all about building a stronger 'container' for the organisation, which was spread across some 15 sites as well as outreach in 36 schools.
Stephen supported Joanna to deliver a drama workshop for 25 Young Carers in Somerset.
Stephen facilitated a company vision and strategy day for a local Somerset business.
Stephen was part of a RedQuadrant team delivering a pilot Commissioning development programme in June 2015.
In April 2015, Stephen worked with AllChange, working with an artist to visually capture the outputs of a strategy day held by a global brand team from within Unilever. Late 2014, he led an innovative use of graphic artists to capture learning visually at a 3 Day international conference as part of creating a high level of delegate engagement during and after the event. The aim was for the visual capture (see the 'iTab' here) to provide both memory and a tool to call colleagues to action after the event.
2014
Working with prederi , for 5 months in 2014 Stephen supported the development of a 5 year commissioning strategy for health across SE London for 6 NHS Clinical Commissioning Groups (CCG) covering six boroughs. This has involved working with senior clinicians, NHS and local authority senior officers in 'Clinical Leadership Groups' covering Primary & Community Care, Long Term Conditions, Urgent and Emergency Care, Children and Young People, Maternity, Planned Care and Cancer. This is a clinically-led commissioning strategy and reflects a high level of involvement from the provider NHS Trusts, with leadership from the CCG Chief Officers.
His role was to facilitate senior planning meetings and large workshops, developing system-level service models, impact analysis and 'roadmap' development. In particular he has supported the Urgent and Emergency Care and Children and Young People strands of the strategy. The submission of the first version of the strategy to NHS England was on 20th June and then he worked with the groups to develop elements of the service model and impact analysis.
During 2013 until March 2014 he worked for a London Borough, NHS Clinical Commissioning Group (CCG) and NHS Foundation Mental Health Trust leading a strategic review of Children and Adolescent Mental Health Services (CAMHS) across the borough. Over 5 months, this involved working with senior officers from the three organisations and a working group of children's commissioning and CAMHS clinical services staff, developing a new service model and work programme for system-level change which will influence future commissioning, service development and service specifications.
This work came through his association with Red Quadrant. RedQuadrant are a local government consulting practice that have grown significantly over the last 3-4 years. Great group of people doing important work supporting this sector through these challenging times.
2013 and earlier
Stephen worked with the wonderful Dr Bill Prensky Meet Bill here and see CNDG here and Brad Wilkinson, both in the USA. Our client has been Pfizer Animal Health – now Zoetis –  and he has been working with Bill and Brad to design two strategy implementation and community events. Working with some highly experienced vetinarians has been really interesting. We went through visioning sessions and world cafe and deep dive methods to enable the client teams to to develop plans they own.  Stephen largely worked virtually with Bill and Brad, as well as co-facilitating one of the events in Portland Oregon. Great people to work with and he enjoyed working together virtually. This is a good example of Stephen bringing his creativity and workshop design skills into play as a virtual team member. He also designed and authored an interactive iBook, developed with the CNDG technical team for the client as both a record of the second event and as basis for ongoing updates on the story of change as the organisation moves forward on its change journey.
He facilitated two 'leading for rapid growth' workshops in South Africa  for Kentz plc and worked with Zimmer Inc, a global medical devices manufacturer designing and facilitating  workshops to help UK and European Finance leaders transition to a new operating model.
Stephen worked with Kids Company providing 121 manager supervision in Bristol, and recently led a development session for clinical supervisors (who provide supervision to staff) on supervising in a complex organisation.
Through Action Learning Associates he is also working on ongoing action learning facilitation with: a 'big 4′ professional services firm (2 programmes, 3 sets); the Chartered Insurers Institute; and a global publisher, facilitating a Virtual Action learning Set of 6 senior managers located in UK, Croatia, Hong Kong and Singapore. A recent action learning intervention has been with Nissan UK.