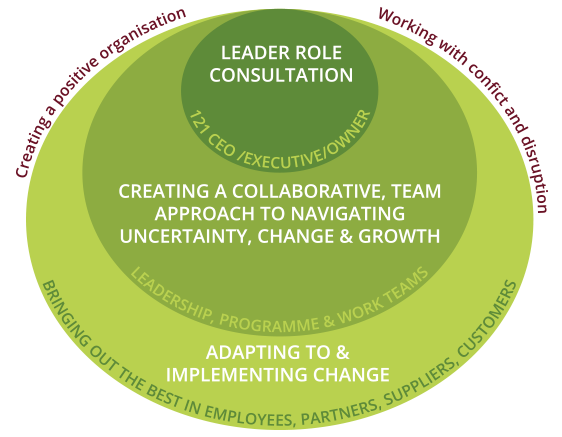 Click on the services on the diagram above to view further information.
These are extraordinary and turbulent times in which to be running a business, public sector organisation or charity and the pressures on you as leaders and managers are significant. Uncertainty makes planning difficult and the interdependence between organisations brings added complexity to what is needed to navigate the impacts of this changeable environment.
We recognise that for you as business leaders, whether surviving, thriving or even growing your business right now, navigating in this environment is demanding, complex and will require a combination of agility, leadership and a strong ability to take people with you. How you manage and develop your organisation and people in this climate is crucial, whether navigating changes, uncertainty or dealing with growth. It is also a great responsibility to lead an organisation and people, and yet not always easy to turn to those you lead for support and challenge; now is a time when that may be needed more than ever. We are able to offer supportive and enabling services to help you.
ONLINE IN PERSON CONSULTING OFFERS
I am now offering specific 'ONLINE IN PERSON' consulting interventions: Interventions 'On line In Person' (aka 'remote' delivery using zoom or your own platform). All of these are designed to improve well-being and team work of staff and organisation partners and to deliver effective outcomes during this period of uncertainty, new ways of working and beyond
Individual development
Role consultation: a robust development model focusing on: understanding 'self' and one's authority in role; how role requirements are changing (systems thinking approach); how to adapt and align self-awareness with changing role requirements
Group interventions that combine support, learning and action
(Virtual) 'Action Learning Online In Person'

Collaborative project working: systemic thinking; supportive challenge and creative approaches; 100 day cycles of action inquiry to
Weekly Group focusing on learning: what went well/What we could have done better/Insights and 'Aha's/actions we will take as a result of the learning (strengths based learning) Organisation Development
Organisation Development
Appreciative Inquiry into creating a positive organisation at a time of uncertainty and change

Transition workshops exploring transitionining into new ways of working (Bridges' Model)
Accountabilities – Decision Rights review (RACI review around decision points in key areas of risk)